After 2 great days (Sunday and Monday) diving, we were psyched to continue with our routine. On Tuesday and Wednesday we headed out early in order to grab a mooring ball at Looe Key. Both days weren't quite as calm and clear as the previous 2 days, but the diving continued to not disappoint. Since the water at Looe Key is pretty shallow (20-40ft) we would either dive one long dive (over an hour) or split a tank and dive 2 shorter dives (still almost an hour).
While we were anchored at Newfound Harbor, we met a young couple with a 3 year old boy living on a 26′ sailboat. Randy was talking to them Monday afternoon about Looe Key and they said their sailboat wouldn't make it out there in one day. Randy offered to take them snorkeling on Blue Turtle the next day since we were headed there anyway. Unfortunately, this was probably one of the roughest days we had out there. Our dive was great since we were underwater most the time but Kylie and her son Asa spent a considerable amount of time rocking back and forth on Blue Turtle as she was getting hit in the beam. I think everyone still had a good time but we were hoping for better conditions for them.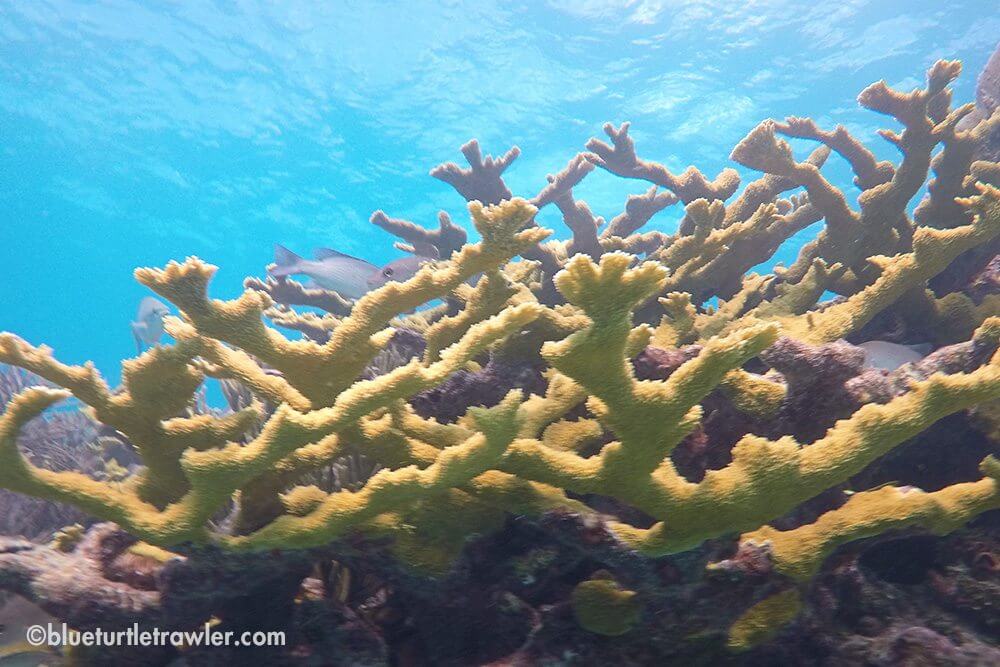 The last evening (Tuesday) we spent at Newfound Harbor, Corey took his kayak out on a mission to catch some Mangrove Snapper. Randy and I loaded a cooler and Sophie into the dinghy and went to the sandbar right by Picnic Island to soak in the late afternoon sun. Sophie got to paddle a little bit both wearing her lifejacket and without—she wasn't too thrilled. She isn't a very strong swimmer, due to her very short legs, but she does alright keeping her head out of the water. Evening though she hates the water, I like to toss her in every now and then just to make sure she can still swim a little at least. After about an hour there, a storm came rolling in and we headed back to Blue Turtle to get ready for dinner and the next days' dive and trip to Bahia Honda.