After we left Cumberland Island at the end of January, we stopped and anchored in Fernandina Beach for the night. The next morning we cruised 53 nautical miles to the St. Augustine mooring field. We were assigned a ball on the north side of the Bridge of Lions near the fort. While we loved the view of the fort, we ended up requesting a new ball on the south side of the bridge. We lasted about a week on the north side but between the constant canons being fired from the fort, the loud bands playing past midnight at onshore bars, and the constant waking from speed boats, we decided to move.
Our original plan was to hang out in St. Augustine for a month while I worked on some boat projects. With Randy having to travel for work, and family coming to visit, a month turned into two, which was ok by us since we love St. Augustine.
Boat projects and sewing projects
On Blue Turtle we have a white board with a 'Randy' list of things to do and a 'Kim' list. Randy's list mainly contains things needing to be repaired or engine maintenance, these are things that he's able to take care of while we cruise. My list contained a lot of sewing and restoration projects which isn't so easy to do while constantly moving about. Having a place to lay up for a bit was nice especially since I needed to order materials for these projects. Sewing projects I worked on this year (in the Smoky Mountains and St. Augustine) include: boat fender covers, sheet bags for the cockpit, portlight window covers for the main cabin, hatch covers for our 2 largest hatches and canvas covers for our 6 wood rails on the front of our boat. Checkout my previous post Sailboat sewing projects … so many things to sew for more details on these projects.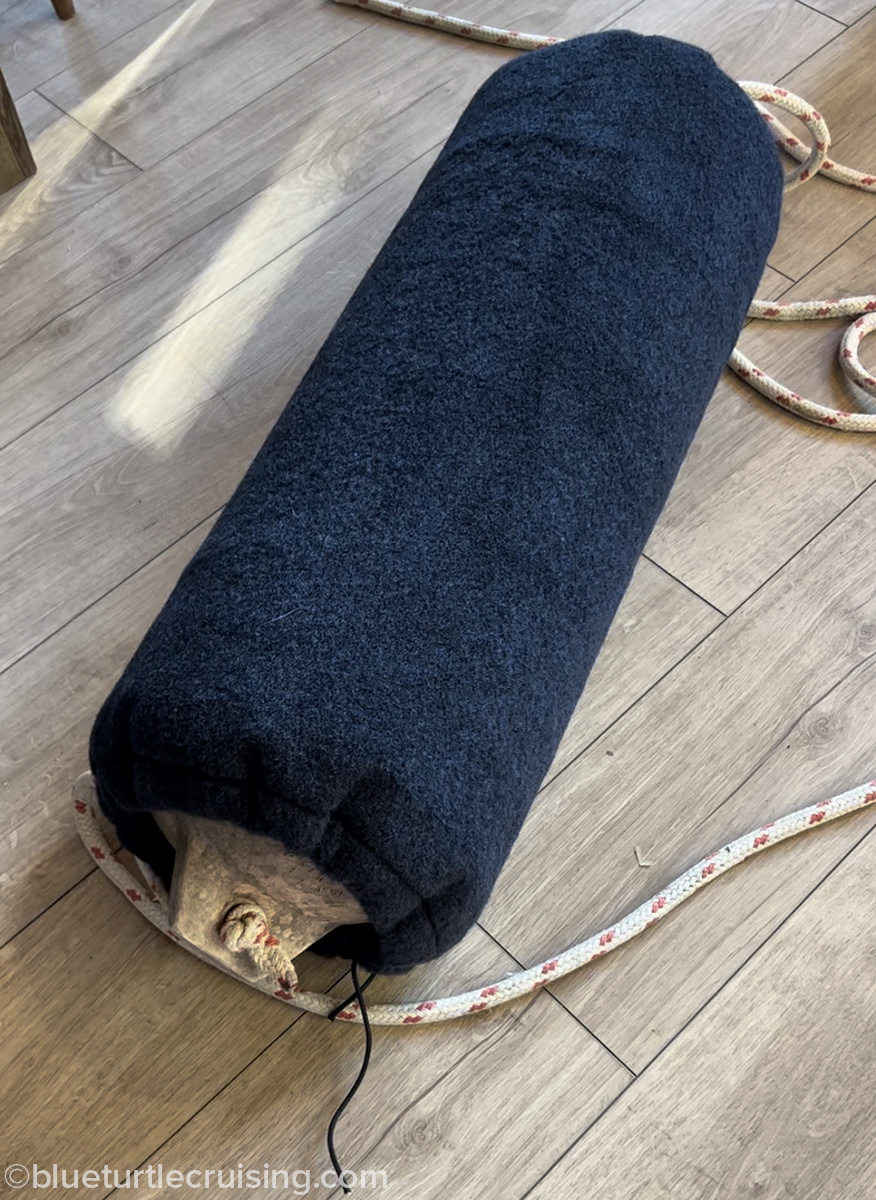 It wasn't all sewing! I worked on things like deep cleaning the mildew from the v-birth and inside hatches as well as polishing the stainless steel on the deck. Randy dove the boat a couple times, fixed a bilge pump and installed a new toilet in the aft cabin head. Note: this is the first time in 11 years we got a new toilet on one of our boats, yay!
Randy goes up the mast
Another item on our list was to clean the underside of our spreader bars. This had two purposes: first, to actually get the spreader bars clean, and second, to learn how to use the bosun chair and safely get Randy up the mast. To help safely guide us in doing this, we enlisted the help from our friend Chuck, who we met at Brunswick Landing Marina and is staying in the St. Augustine municipal marina. Chuck came out one morning and showed us the ropes (literally, lol). Randy safely made it up to the spreader bars and cleaned them. He even snapped a few photos as well.
It wasn't all work and no play
During our time in St. Augustine, we met new and old friends, visited with family, and explored the local breweries and vegan-friendly restaurants. We also signed up for 1 month unlimited yoga at The Yoga Collective just across the Bridge of Lions. I couldn't believe I was able to talk Randy into it and he actually enjoyed it. Yoga is great for mobility and flexibility and we definitely need that when crawling around tight spaces on a boat. The added bonus was we also got 3 miles of walking in with the 1.5 mile walk to the yoga studio.
Boat friends – Old and New
During our time in St. Augustine, we were able to catch up with friends from the past and meet some new friends. We got together with a couple friends from our days living aboard at Snookbight Marina. Lenny (who used to work at Snookbight) happened to be working aboard the cruise ship, American Star, that was docked at the municipal marina. He reached out to us and he took the tender over to visit us aboard Blue Turtle. We also got a visit from our friend, David, who used to have his trawler docked at Snookbight. He now lives in St, Augustine and picked us up by boat in his Grady White and took us out to lunch. It was pretty cool that we were able to hook up with both Lenny and David whom we haven't seen in years. We also got together with Paul and Rebecca of SV Mystic Hearts, whom we met back in October in Annapolis. They were making their way north from the Keys and south Florida and stopped in for a couple of days.
While in St. Augustine, we also got the opportunity to meet some new friends. We met Jay and Tanya for drinks at The Floridian. Tanya (@thevegangalley) and I follow each other on Instagram and upon realizing we were both in St. Augustine, we decided to get together before they continued to head south toward the Bahamas. We also met fellow CSY 44′ owners, Jim and Monique, who recently moved out to the mooring field after spending some time on the dock at the municipal marina. We were glad we could have them aboard to properly meet them and talk CSY sailboats. Also staying in the mooring field were Phil and Kenzi of SV Thalasso, a 37′ CSY sailboat. It was fun meeting this young couple and hear their story about moving across the country and purchasing a sailboat. We are looking forward to meeting all of these fine people again out on the water.
Family time
Randy's Aunt Judy and her husband John were staying a month in St. Augustine while we were there. We were able to get together with them for drinks one evening and then again when Randy's dad, John, and his wife April visited St. Augustine for a long weekend. Judy's daughter and grandkids also visited while we were there so we took them all out on a cruise aboard Blue Turtle. We were even able to get the genoa up and dust her off! It was a great day cruising around St. Augustine and got Randy and I excited about cruising again soon.
Cumberland Island to Fernandina Beach = 7 nm
Fernandina Beach to St. Augustine = 53 nm

TOTAL miles since April 2022 = 2,622 nm